People
Advice to prospective or beginning students on research topics
Graduate Students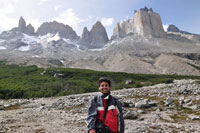 Omar Ohrens, Ph.D. candidate
Omar is an agronomist from Chile, who has studied various wildlife in human-dominated landscapes for the last four years. His research will be focused on human-carnivore conflict and conservation, specifically of pumas, in the region of Tarapaca and Auracania in Chile. He will lead a project to develop verification procedures for livestock loss, mitigate the conflict between pumas and people related to livestock predation, and map risk of puma predation on livestock. Omar won the Becas Chile-CONICYT Scholarship from the Chilean government and his research is funded by the Agriculture & Livestock Service (SAG-Chile). Omar completed his masters of science at CCL in December 2013.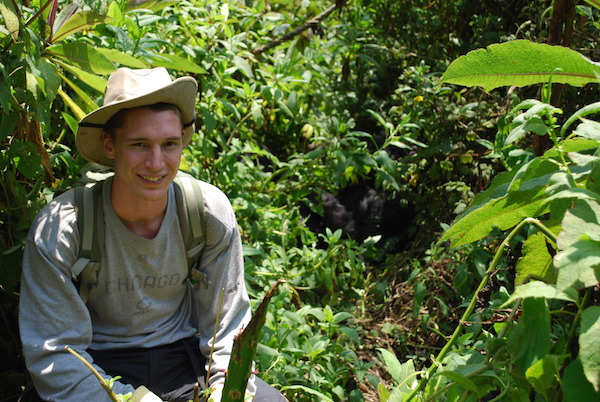 Drew Bantlin, M.S. candidate
Drew has studied anti-predatory behavior of East African primates, including mountain gorillas, chimpanzees, and a number of monkey species in Rwanda. He recently piloted a study looking at the vigilant behavior of wolves and how it changes between refuge land and agricultural areas at Agassiz National Wildlife Refuge, Minnesota. He is now returning his focus to Rwanda to look at the vigilant behavior of prey species before and after the reintroduction of lions to Akagera National park, Rwanda. He hopes to understand how the reintroduction of a top carnivore to an ecosystem impacts organisms down the trophic pyramid.
Francisco Santiago-Avila, Ph.D. candidate
Fran holds Masters degrees in environmental public policy as well as environmental management) from Duke University. His recent research has focused on valuation of non-wood forest wealth (funded by the World Bank) as well as prioritizing ecosystems for conservation in Latin America and the Caribbean (funded by the Inter-American Development Bank). Fran's current research interests lie in human-carnivore conflict and conservation, focusing on gray wolves, including: human behavior and attitudes towards the species, conflict-mitigating interventions and legal mechanisms for conservation. His other interests include carnivore behavior and ecology, and trophic cascades.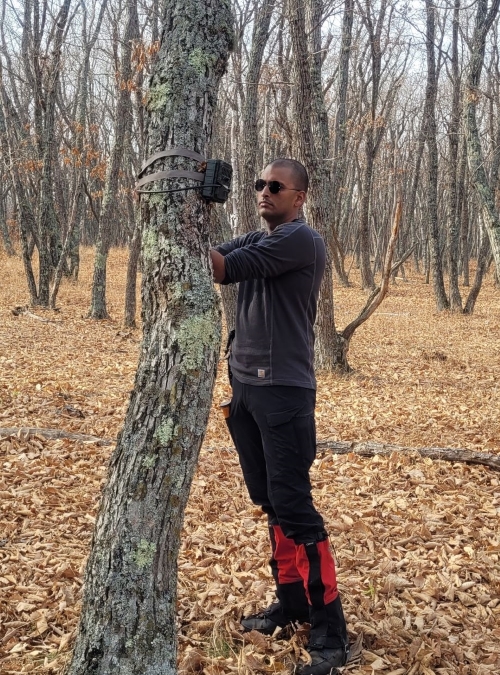 Karann Putrevu, Ph.D. candidate
Karann is a computational biologist originally from St. Catharines, Ontario, Canada. He completed his Bachelor of Science with a dual degree in biological engineering and biology at Cornell University. He has a particularly strong passion for tigers and has studied topics ranging from modeling their interspecific conflicts (with leopards in India and wolves in Russia) to the Panthera genus' genetic lineage to the social and political context of the South China tiger's extinction in the wild. Karann is currently interested in applying Bayesian and machine learning methods to model the population dynamics of large carnivores as well as in studying spatial and temporal risk of livestock predation and poaching.
Affiliates
Cristián Bonacić, D.V.M., M.Sc., Ph.D.
Cristian is a Professor of Wildlife Management at The Department of Ecosystems & The Environment at the Pontifical Catholic University of Chile. Professor Bonacic leads one of the largest wildlife management research laboratories in Chile, Fauna Australis. Fauna Australis investigates different taxa from amphibians to wild mammals. Also Fauna Australis' main aim is to promote biodiversity conservation and sustainable development by working on conflict resolution between people and wildlife. Cristian is a 2015 visiting professor in The Nelson Institute sponsored by The Tinker Foundation, LACIS, and CCL.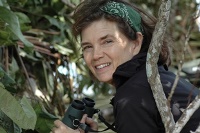 Arlyne Johnson, Ph.D.
Arlyne is an Honorary Fellow with the Nelson Institute and works with Foundations of Success providing training for conservation organizations in the U.S. and abroad in designing and monitoring the effectiveness of conservation projects. She has led wildlife research and conservation programs in Latin American and Asia for the Wildlife Conservation Society since 1988, including projects to reduce conflict between local communities and large carnivores (tiger, dhole) and Asian elephant in Lao PDR. Arlyne currently teaches a graduate-level course in Conservation Planning for the Nelson Institute. She holds a Ph.D. in Environment and Resources from the Nelson Institute. You can see some of Arlyne's recent carnivore publications here.
Mark Rabenhorst
Mark is working on spatial analyses of wolf-human interactions in Wisconsin and the Upper Peninsula of Michigan.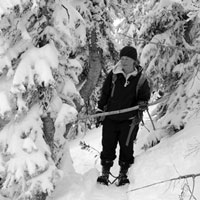 Jamie Hogberg, M.S.
Jamie received her MS in Conservation Biology and Sustainable Development at UW-Madison, where she studied human-wolf conflict in Wisconsin and attitudes toward wolves and management following the inaugural public hunting and trapping season. She has worked as a field biologist for conservation organizations in the western U.S., tropical conservation in South America, and she currently coordinates the Environmental Conservation MS Program at the Nelson Institute. Jamie is also the founding board member of the Wisconsin Chapter of the Society for Conservation Biology. Her interests include human dimensions of wildlife conservation, private lands conservation, avian ecology, and community-based conservation planning.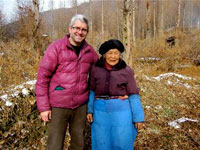 Nathan Schulfer, M.S.
Nathan began work for the Environmental Conservation Professional Masters program at the Nelson Institute after graduating in 2014 with a Masters degree on food security and ecosystem services, co-advised by Dr. A. Treves and Dr. J. Silbernagel.
Caitlin Williamson, Masters in Environmental Conservation
Cait is an environmental and sustainability professional, and is interested in wildlife conservation and management. Her experience has included wolf monitoring activities with the Wisconsin Department of Natural Resources, as well as a research emphasis on tribal wildlife policy and public perception towards carnivores. She's interested in the cultural and political perspectives of carnivore management, specifically the utilization of treaty rights and state and federal law as tools for human-wolf coexistence.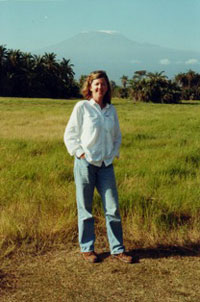 Christine Browne-Nuñez, Ph.D.
Christine received her Ph.D. in Wildlife Ecology and Conservation from the University of Florida, where she completed her dissertation on predictors of attitudes and behaviors toward elephants around Amboseli National Park, Kenya. Her interests span the broad field of Human Dimensions and include the application of social science theory and research methods to understanding human thought and action as they relate to natural resource issues, understanding and managing human-wildlife conflict, and environmental education and communication. Christine is currently a post-doctoral research associate studying the influence of wolf management policy on social tolerance of wolves in Wisconsin.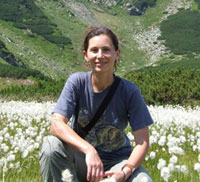 Alina Szabo, Ph.D. candidate (affiliated to CCL)
Alina employs an interdisciplinary approach to study conflict and coexistence between people and large carnivores in the Romanian Carpathians, a region they have shared uninterruptedly for millennia even at high densities. Working in the Rodna Mountains National Park she is identifying key factors that favor livestock depredation and aims to develop a risk map to help predict attacks and target preventive intervention. This data is complemented by an investigation of stakeholder values and attitudes towards bears, wolves and lynx and their management to understand their willingness to share the landscape with large carnivores and the conditions that could promote that. Furthermore, Alina is analyzing interactions between institutions and policies operating in the area and to what extent principles of good governance are being upheld. With her research Alina hopes to shed light on key ecological and socio-political factors that reduce conflict and foster the coexistence of humans and large carnivores in this context and to draw lessons that could be applied elsewhere.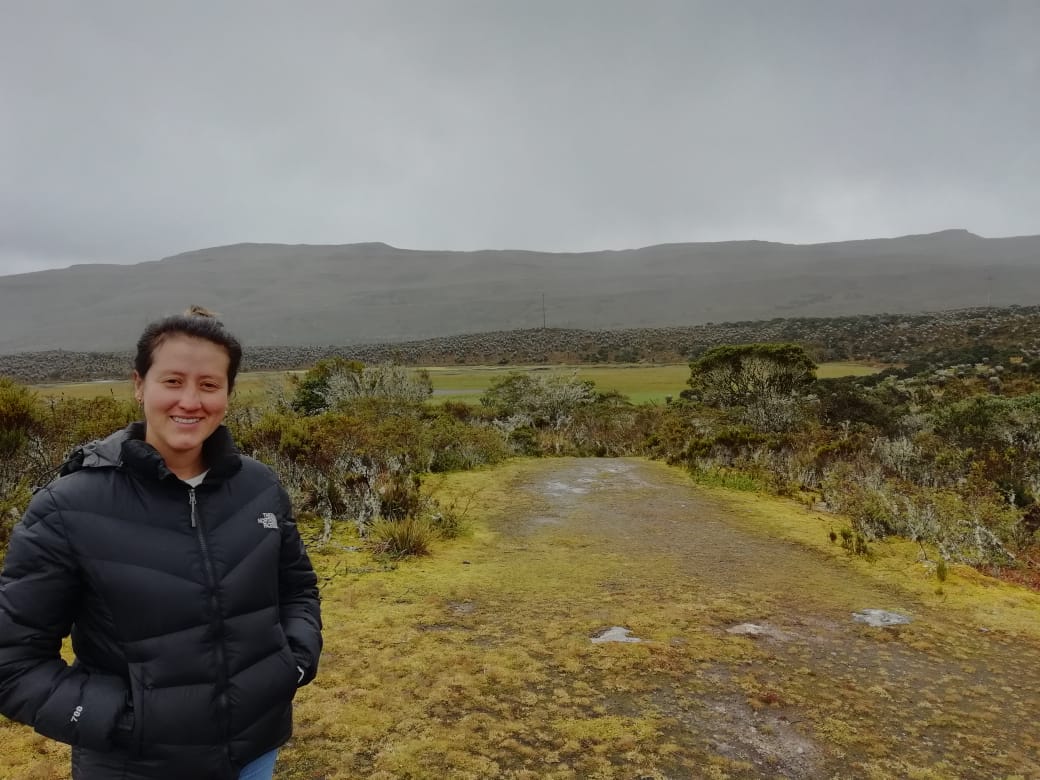 Alexandra Pineda Guerrero, M.S.
Alexandra is a biologist from Colombia and masters student of Environmental Conservation here. She has worked as a researcher at ProCAT Colombia NGO (Proyecto de Conservación de Aguas y Tierras) for the last four years. Her work has been related to the ecology of carnivores, conservation planning for tropical mammals and ecosystems, and carnivore-human conflicts, specifically related to jaguar and pumas. Alexandra is interested in studying attitudes toward the wild cats, conflict mitigation and interventions within rural communities in South America and world-wide.
Alexandra Pineda Guerrero, Professional Masters in Environmental Conservation 2016
Jamie Hogberg, M.S. 2014
Zachary Voyles, M.S. 2013
Brittany Bovard, M.S. 2013
Nathan Schulfer, M.S. 2012
Taylor Jones, M.S. 2010
Victoria Shelley, M.S. 2010
Becky Zug, M.S. 2009
BMarie Vicksta, M.S. 2010
Camilla Fox, M.S. 2007
Kerry Martin, M.S. 2006
---