Videos and Audio files from radio appearances
These videos may require plug-ins or extensions in your browser to run smoothly.
Also check out the Press webpage at left for media coverage of our work!
Topic: Coexistence
Coyote-killing contests: why the science, ethics, and the law oppose these contest, with some comments on wolf delisting in the Western Great Lakes. Listen to a one hour radio show on WORT's "A Public Affair" with Adrian Treves, 14 January 2019 Listen here. also on
Twitter
"Best Available Predator Science and the Law", a webinar by Adrian Treves, 18 December 2018. This webinar describes the relationship between science and law with a case study revising the history of Wisconsin's wolf population models and how that might influence policy today. See the one hour webinar here.
1.5-minute video of lead authors Lily van Eeden, Jennie Miller, Ann Eklund, and Adrian Treves explaining findings in their new paper in PLoS Biology, which can be found here.
Topic: Atmospheric Trust Litigation, intergenerational equity and public trust
31-minute video of Youth plaintiff, Victoria Barrett, explaining how she came to be part of atmospheric trust litigation (ATL). ATL plaintiffs here and elsewhere are suing governments to modify climate policy. Victoria and her co-plaintiffs have filed a constitutional claim and a claim under the U.S. Public Trust Doctrine in federal court.


48-minute audio from NPR reporting on the October 2018 report from the IPCC, which includes Victoria speaking about the upcoming oral arguments in federal court on October 29th, as the youth plaintiffs get their day in court (last 5 minutes of the broadcast).
A constitutional framework to save our planet's environment webinar narrated by Dr. Adrian Treves.



Treves, A., Krofel, M., McManus, J. (equal co-authors). 2016. Predator control should not be a shot in the dark. Frontiers in Ecology and the Environment 14: 380-388. Click to access the article at the journal website but don't forget the Supplement button up top.

Click here for short video explaining the findings





Blood does not buy goodwill: allowing culling increases poaching of a large carnivore. Proceedings of the Royal Society B 2016




Link to 3-minute video in English and a version in French  here.




See the video of Dr. Treves' presentation at the Wolf and Wildlife Coexistence and Conservation Initiative, which was held July 2015 at the Ho Chunk Conference Center and organized by the Ho Chunk Nation , Friends of the Wisconsin Wolf, Midwest Environmental Advocates. Also the Carnivore Coexistence Lab and the Nelson Institute for Environmental Studies designed and endorsed the scientific program. Also please check this site for other speakers at this first-of-its-kind conference.




Using evidence and science to inform and engage. Adrian Treves speaking on his role in the Science Advisory Board of Project Coyote.



Topic: Risk maps
The Carnivore Coexistence Lab has pioneered the use of risk maps to predict where conflicts between people and carnivores will occur. Prediction aids prevention. See a video on risk mapping and how we forecast the sites where wolves attack livestock.
Topic: Awards, and Fun Videos

video of a wolf playing with cows in Spain by A. Estrada.
video of Dr. Adrian Treves speaks with a long-tailed weasel in Yellowstone.
videos of Wisconsin black bears in experimental trials of non-lethal deterrents (black-and-white, silent films showing (1) bear response to siren and light device, and (2) bear curiosity about our camera) during our 2002 research in the field with John Shivik and Kerry Martin. Bear explores our camera. See also the article on these experiments

2003 Shivik, J.A., Treves, A., Callahan, M. Nonlethal techniques for managing predation: primary and secondary repellents. Conservation Biology 17(6): 1531-1537.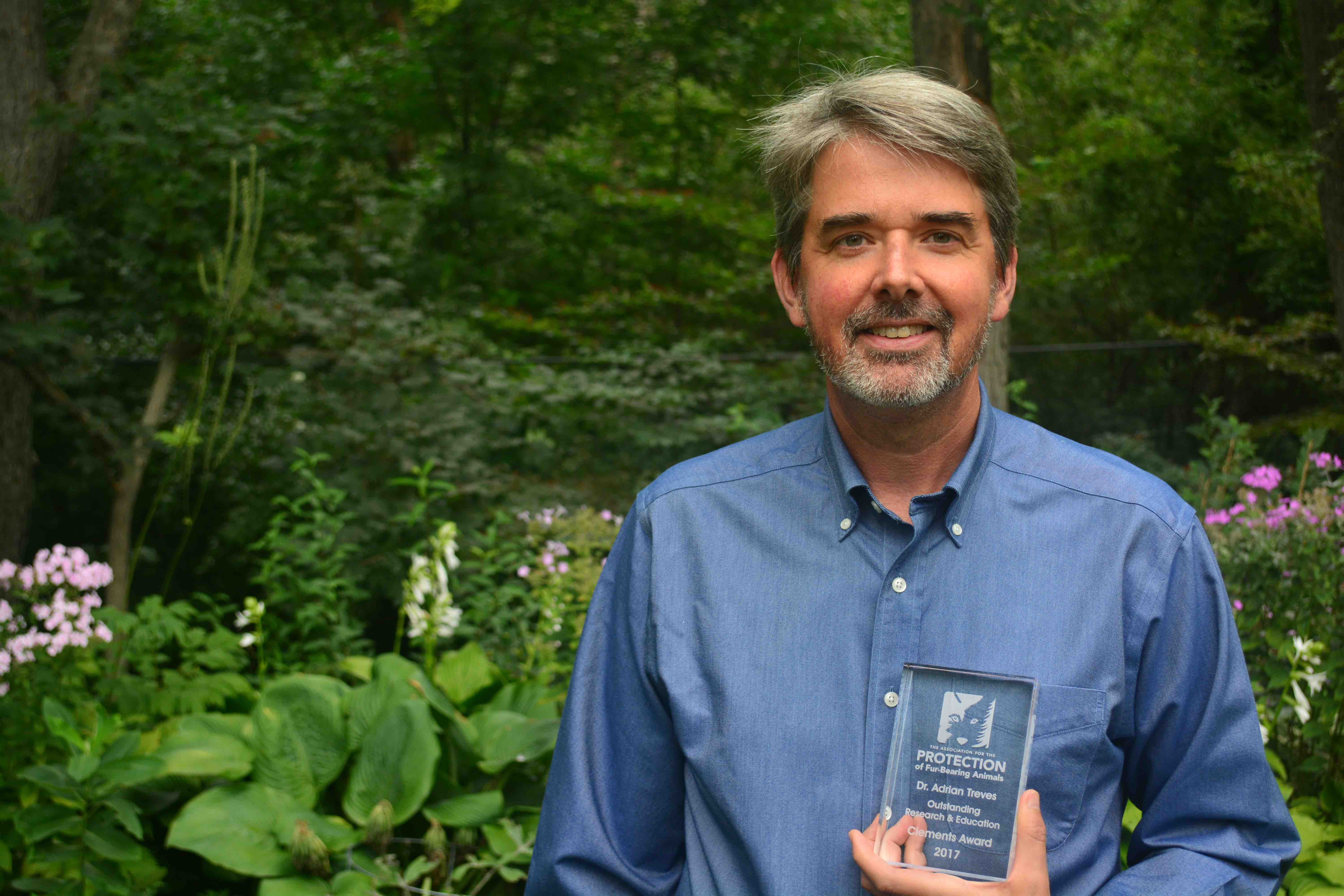 2-minute video of Adrian accepting the Clements award for Outstanding Research & Education in August 2017.