Katy Thostenson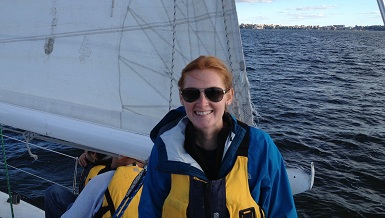 Conservation Biology and Sustainable Development MS: Linkedin page
I am a recent graduate of the Conservation Biology and Sustainable Development MS program at the Nelson Institute. Before UW-Madison, I worked for three years as an Undergraduate Admissions Counselor for the University of Michigan. I worked with families on many sensitive and stressful issues, and I witnessed dramatic disparities between the wealthy and disadvantaged communities. This same sensitivity and understanding must be applied to diverse individuals and communities who each have unique stories and values related to their local landscapes.
This past summer, I interned and completed a study with Sue O'Halloran, the Coastal Training Program Coordinator at the Lake Superior National Estuarine Research Reserve in the Duluth-Superior Twin Ports region. Much of the region is made up of wetlands, which provides valuable habitat yet also creates barriers for development projects. I designed and conducted semi-structured interviews with sixteen local stakeholders to assess their experience participating in a one-year collaborative learning project for wetland conservation and watershed planning in Douglas County, Wisconsin. The results of the interviews will provide a more accurate reading of the success of the project from the perspective of the local stakeholders, and provide insights into the effectiveness of collaborative, participatory processes.
Thostenson, K. (2014). Stakeholder experiences in collaborative learning (Unpublished white paper). University of Wisconsin-Madison, Madison, Wisconsin.
In addition to managing conservation within a watershed, I am excited to apply my findings toward future projects based on place-making, building ownership, sustainable food systems, and developing healthy urban ecosystems.
Past degrees B.A. Communication Studies and Spanish, University of Michigan, 2009
Degree in Progress M.S. Conservation Biology & Sustainable Development, UW-Madison
Interests Cooking with friends, traveling, college football, swing & other dancing, camping & canoeing, magical realism, creating amateur art.