Conservation of biodiversity in agricultural landscapes
The majority of land is under private ownership, and the majority of private land is in some form of production for food, fiber and fuel. Our lab is examining ways to improve conservation in landscapes dominated by landuse change. Our current area of investigation examines conservation of biodiversity in agricultural landscapes. We are specifically working with an eco-friendly sustainable standard for growing potatoes. Although we focus on the Wisconsin eco-potato, the implications are much broader.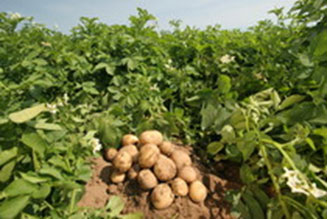 The Wisconsin Healthy Grown potato ecolabel: Since 1996, this science-based approach to wildlife friendly sustainable farming has helped potato growers take a whole-farm approach to sustainability in food production. Standards used included a reduced use of crop protection inputs such as nutrients, pesticides and other additives, by adopting integrated pest management (IPM) alternatives (biologically based pest management systems that do not harm the environment), water contamination reduction, erosion control, restoration and conservation of native ecosystem, and increase productivity without genetic modification of the produce.
This program grew out of a partnership between the University of Wisconsin, the Wisconsin Potato and Vegetable Growers Association (WPVGA), and the World Wild Fund for Nature (WWF). The International Crane Foundation and the Defenders of Wildlife are also part of the partnership. In 2001 an ecolabel was established, The Healthy Grown® eco-label. It is meant to convey to consumers the high standards in farming practices that farmers employ in growing these potatoes.
Research in the lab covers both the supply side and demand side of the equation.
There is hope that ecolabels will assist in the financing and promotion of the practices necessary for biodiversity conservation in working landscapes. To make this happen, it will be necessary for the promoters of ecolabels to improve their knowledge of what motivates consumers. Our research focuses on questions such as "Can labeling provide information that will guide consumers to make choices that are better for the environment?" and "Can these choices provide positive feedback to sustainably produced crops?"
Management & Monitoring of Restoration of Native Landscapes
September 24, 2012 | By Amanda Lucas
At the site of the former Badger Army Ammunition Plant just outside of Baraboo, student volunteers from the Nelson Institute for Environmental Studies are working overtime. Arms production ended in 1975, and for the past 15 years, the Sauk Prairie Conservation Alliance has been working to restore the land around the sprawling facility. Student help is critical to these efforts.
Nelson Institute student Marya Johnston-McIntosh
(center) instructs prairie monitoring volunteers. 
"The Alliance has a wonderful history of connecting UW-Madison students to our work," says coordinator Heidi Royal. "Volunteers, by far, are the heart of our programs."
The Sauk Prairie Conservation Alliance formed in the late 90s after the U.S. Army decommissioned the Badger Army Ammunition Plant and began to transfer the property to local, state and federal entities. The group advocates the conservation and restoration of the prairie on the site as part of the larger Badger Reuse Plan advanced by Sauk County.
The site's proximity to the university – about 33 miles northwest of Madison – and the organization's emphasis on community engagement and service learning provide limitless opportunities for students to take part.
When built in 1942 to manufacture propellants for ammunition in World War II, the facility was the largest ammunition plant in the world.  More than 1,400 buildings, 130 miles of roads and 26 miles of railway, intermixed with pasture, cropland, ponds, wetlands and wooded areas, spanned its 7,500 acres.
Today the Wisconsin Department of Natural Resources, the U.S. Department of Agriculture and the U.S. Army share ownership of the land. Together with the Sauk Prairie Conservation Alliance and the community, they envision combining prairie and savanna restoration with research and education, historical preservation, sustainable agriculture and recreation.
Marya Johnston-McIntosh, a master's student in the Nelson Institute Environment and Resources program, began volunteering at Badger early in her graduate studies and later developed her thesis project around the work.
UW-Madison
 students assist with prairie restoration
as part of a class led by Johnston-McIntosh.
"It really drew me as this complicated scenario for conservation, but with such great potential," Johnston-McIntosh said. "And as I started to volunteer, I realized they went about their restoration in a really systematic and wonderful way."
But she concluded that the project could benefit from some assessment tools.
"As is common with ecological restoration projects, we proceeded in a way that was a prescription – a plan – without stopping to see if the plan was working," she explains.
For her master's thesis, Johnston-McIntosh developed a citizen monitoring program to help track and manage invasive plant species in the prairie as well as provide alternate ways for volunteers to contribute.  Her project allows volunteers to act like scientists for a day, collecting data and taking notes based on a specific protocol. The data, gathered annually, will provide insight into the presence and abundance of invasive plant species over time – a critical component in measuring the success of the prairie restoration, she says.
This fall, Johnston-McIntosh is also teaching an undergraduate environmental studies capstone course that will bring students to Badger to complete individual projects.
"The [environmental
studies] students have
a broad base of understanding
from which to approach both
the history of the Sauk Prairie
and its future as a multiple
land use model."
"The class is using Badger as a case study to show that conservation can be so complex and there can be all these different facets," she explains. "As opposed to just conserving or restoring a piece of land, you're interpreting history and engaging with the community to see what they need or want on the landscape."
According to Heidi Royal, this interdisciplinary perspective that Nelson Institute students bring to the organization's work is of great value.
"The [environmental studies] students have a broad base of understanding from which to approach both the history of the Sauk Prairie and its future as a multiple land use model," she says.
Jessie Conaway, a doctoral candidate in Environment and Resources, has served as volunteer coordinator for the Alliance since early 2012. She advises a number of UW-Madison volunteers, including Johnston-McIntosh, on research and service learning initiatives.
"We have some really good pioneers in the UW students who are doing work at Badger," she says.
Nelson Ph.D. candidate and Sauk Prairie Conservation
Alliance volunteer outreach assistant Jessie Conaway
.
Conaway is especially interested in the relationships volunteers create with the landscape through long-term restoration projects and citizen science, and how participation in such activities can enrich the volunteer experience and restoration efforts.
For Conaway, Johnston-McIntosh and other partners with the Sauk Prairie Conservation Alliance, educating community members about the landscape's extensive history and the groups that have called it home is a priority.
Native Americans first inhabited the land in its natural state of tall grass prairies and savannas. After European settlement, however, the area was transformed into farmland. Then, with the construction of the ammunition facility and an influx of thousands of plant workers, farm families had to relocate.
"Monitoring implies a long-term relationship with a landscape," Conaway explains. "Keeping that big historical picture in mind, we're moving forward to look to the next chapter in the narrative and say, as a community, 'What do we want to remember about this? What do we want to have as our vision as we move forward in taking care of and participating in this landscape?'"
Amanda Lucas is a senior majoring in journalism and environmental studies. All photos courtesy the Sauk Prairie Conservation Alliance.
Fire Science
Current projects – The Tallgrass Prairie and Oak Savanna Fire Science Consortium.
In response to a perception that massive wildfires were increasing in frequency and negative biological and physical consequences, the Federal Government has sponsored the establishment of the Joint Fire Science Program (see http://www.firescience.gov/). As the name indicates, the program is joint between the U. S. Forest Service, the U. S. Bureau of Land Management, the U. S. Fish and Wildlife Service, the U. S. Geological Survey, and the Bureau of Indian Affairs. The main objective of the program is support research directed at the critical questions that need to be answered to deal with the problem posed by wildfire and related issues in fire management. It became apparent, however, that making the standard research products available was not sufficient to insure the timely introduction of improved practice in the field. To address this problem, it was decided to fund geographically focused groups dedicated to disseminating the latest research to practitioners, and providing researchers with feedback from those in the field so that research and practice could be harmonized. These "consortia" now cover most the U. S., including Hawaii (but not the Northeast, see: http://www.firescience.gov/JFSP_consortia.cfm ).
In 2011, a group of researchers and practitioners interested in fire in natural ecosystems were successful in obtaining funding for the Tallgrass Prairie and Oak Savanna Fire Science Consortium. I am the Principal Investigator on this project, but from the beginning it was highly collaborative. In addition to the management team, there is an advisory board consisting of researchers and practitioners expert in various aspects of fire ecology and fire management in the region. The persons currently involved in the management team and the advisory board for the consortium, along with other information about it may be found here: http://www.tposfirescience.org/.
There are many opportunities for students and other researchers to participate in the activities of the consortium. Inquiries may be submitted through the website.